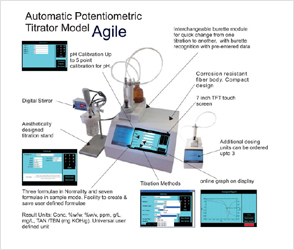 Potentiometric Titrator Model Agile Can Work As Stand Alone Or Through PC
Potentiometric Titrator For Acid Base, Redox, Complexometric, Precipitation Etc Titrations

Key Features
• Corrosion Resistance Fiber Body
• Compact Design
• 7" TFT Touch Screen Display
• Cordless Mouse Can Be Used
• Online Graph On Display
• USB Port For Printer Provided For Direct Printout Without Using PC
• Pen Drive Connectivity
• Automatic Burette Recognition,
• Burette Factor For Calculation Purpose,
• Automatic Calculation In Desired Units Using Formulae Constants.
• Document Format Report Print Out Which Can Be Directly Filed, Time, Date, Titration, Number & Sample Identification Number Facility
• Alphanumeric Entry Possible For Sample Name, Batch Number, Operator Name Etc.
• Individual Username & Password For Each User
• Limiting System Access To Authorized Individuals Meets GLP Compliance.
• Can Be Expanded Applications Like PH Stat, COD, KF Etc. With Suitable Accessories.
• Software For CFR 21 Part 11 Compliance Can Be Ordered.

Request Free Quote
Contact Us