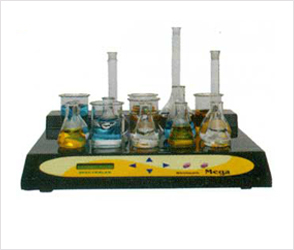 It Is With A Single Platform Having Multiple Stirring Points For
6 Large Flasks Of 1 Litre (Max - Dia 125 Mm)
Or 15 Small Vessels (Max - Dia 60 Mm)

Typical Application :
Standardising The Condition Of Dissolving A Sample.
The Facility To Read Rotation Speed And Count Down Time Is Extremely Useful. You Can Optimise And Standardise A Particular Speed Of Rotation, Time Of Stirring For A Given Weight Of Sample And Volume Of Solvent, Thereby Ensuring Complete And Through Dissolution Of Sample Before Analysis.

Whirlmatic Mega Magnetic Stirrer Is A Multipoint Aesthetically Designed, Compact, Ultraflat Stirring System. The Ultra Flat Design Is Ideally Suited For Many Operations. Due To FRP Housing The Stirrer Is Completely Corrosion Resistant .

The Conventional Stirrers Use A Magnet Fixed To The Motor For Rotational Force, Whereas Rotating Electromagnetic Field Is Used In Motorless Stirrers

It Has Unique Advantages - Saving Of Space, Silent And Wear Proof Operation, Smooth & Reliable Stirring Speed. A Special 'Soft - Start' Technique Ensures Un-Attended Operation. With 'Soft Start' The Stirring Paddles Always Catch The Centre To Slow, Gradual Rise In Speed Till It Attains The Set Level. Digital Indication Of RPM & Provision Of Timer To Set Desired Time Interval Makes The Stirrer Extremely Useful For Standardization.


Request Free Quote
Ordering Information
Contact Us