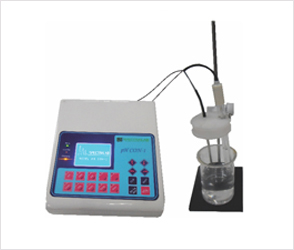 2 In 1 Instrument For PH & Conductivity

This Is A Combined Instrument For PH & Conductivity. The Features Of PH Meter & Conductivity Meter Are Combined In One Single Instrument Giving A Price Advantage. Buying PH CON Is Definitely Cost Effective Than Buying Two Separate Instruments - Accu PH 3 ( For PH ) & COT 2 (For Conductivity). All The Commonly Required Parameters - PH, ORP, Conductivity, TDS, Salinity Can Be Measured With This Single Instrument. The General Specifications Are Same As That Of All Other Instruments In This Family.

Remove PH Ion Meter : Model PI-5 For ION Selective Electrodes From That & Insert A New Link In General Laboratory Instruments In The Last.


Request Free Quote
Ordering Information
Contact Us